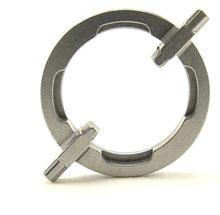 Since 1962, Perry Tool & Research has manufactured Powder Metal Parts for OEM companies. Our Powder Metallurgy (P/M) process enables us to produce complex, precision metal parts with a high degree of part configuration. We specialize in producing gears up to 12 AGMA, self lubricating bearings, soft magnetic components, and custom mechanical parts.
We manufacture parts used in printers, plotters, fractional hp gear motors and reduction gear boxes, timing devices, medical equipment, gaming equipment, solenoids, rotary & linear, magnetic latches, sensors, electromagnetic equipment, locks, automotive parts, and many other applications that require complex, multilevel, close tolerance parts.
Perry Tool & Research can produce parts with unique designs and difficult production features. In many cases, our expertise has made us the sole resource for a part when competing companies are unable to yield quality parts in sufficient numbers. We inspect all of our parts to a minimum Cpk of 1.33. This means to many of our customers we can deliver directly to stock or assembly operations without an incoming inspection.
Advantages of Perry Tool
Statistical Process Control
Statistical Quality Control
In-House Tooling, Design and Manufacturing
Automated Secondary Operations
A Total Commitment to Customer Satisfaction